Welcome Alumni
Congratulations on Earning Your Degree
Whenever you graduated and wherever you are in the world, you're still family. Here at the School of Social Work, community continues long after you've packed away your cap and gown. 
We invite you to explore ways to get involved, and continue your journey as alumni. Contact the UMN Alumni Association: 612-624-2323 or by email: umalumni@umn.edu, or please consider the following: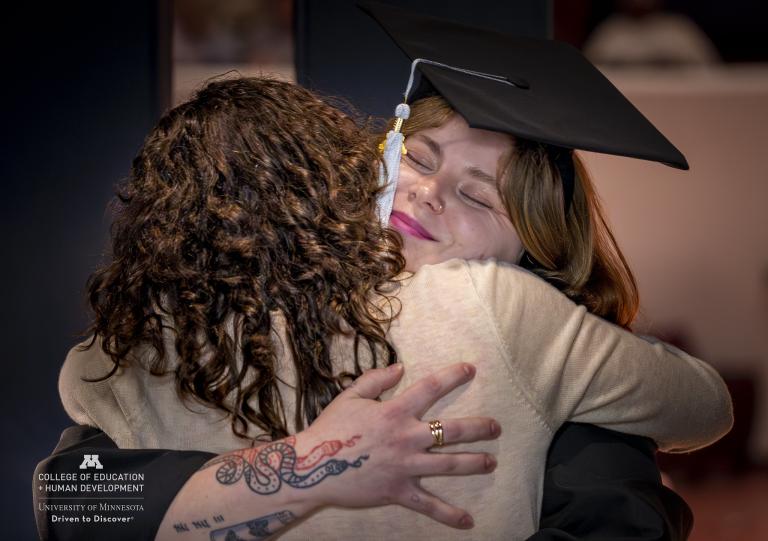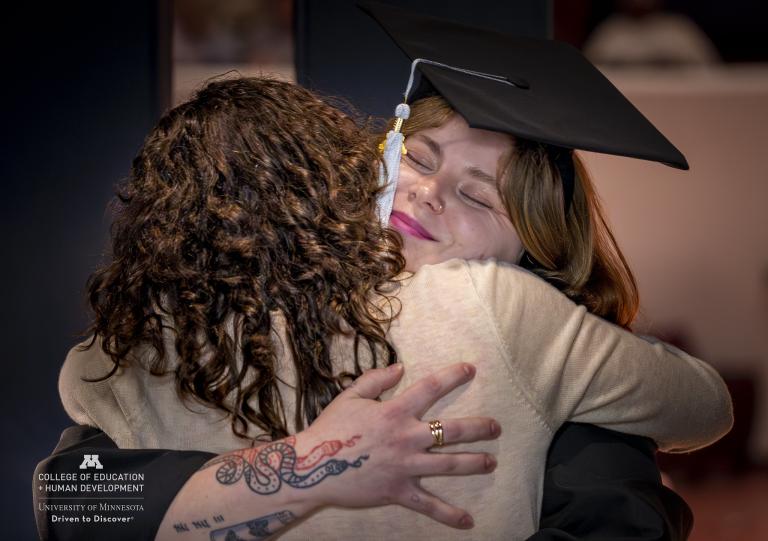 Stay Connected and Engaged
Be an alumni ambassador 
We are looking for alumni to be ambassadors for our school! There are many ways to be engaged as an ambassador: 
Connect with prospective students via email, phone, or in person who are interested in our programs 
Get featured on our website to share your experience with prospective students, current students, and other alumni 
Participate in panels, presentations, information sessions, events, etc. 
Be as involved as you'd like—it's flexible! If you're interested, please complete this form, and we will contact you with more information!
Update your Contact Information 
Stay connected with us! If your contact information has changed, please complete this short form to stay connected with us - with updated news, employment opportunities, and to make sure you're on our list for our e-newsletter! 
Share, What You're Up To, With Us
Prospective and current students are eager to learn more about what our alumni are doing after graduation. Filling out this form will help us keep track of alumni career paths. 
Continuing Education Discounts for Alumni
Alumni of the University of MN School of Social Work receive a 10% discount to classes offered through our Continuing Education program, which provides three certificates (Supervision in Social Work, Interdisciplinary Trauma Studies, and Trauma-Effective Leadership Certificates) and over 45 one and two-day classes each year. More information regarding our certificates and classes can be found at our website. Please email the Continuing Education Program manager at ceseries@umn.edu for information on receiving your alumni discount.
Alumni News
MSW Alumna Brenda Hartman is using her Bush Fellowship to write a curriculum to help health professionals talk about death with their patients. Read more.
Angie Hirsch, American Indian Mental Health Coordinator at the Minnesota Department of Human Services, is Social Work Alumni of the Year. Read more.
YDL graduate Jenny Collins, Executive Director of University YMCA, is spotlighted by the University of Minnesota Alumni Association. Read more.
Alumni Events
MSW Alumni Career Panel Recording Available
 
Alumni of the Master's of Social Work program at the University of Minnesota Twin Cities participated in a career panel in November 2018. The panelists, Tracy Crudo, manager of the Minnesota Child Welfare Training System for the Child Safety and Permanency Division at the Minnesota Department of Human Services; Christina Gonzalez, director of Student Support Services at Richfield Public Schools; Michelle Ness, executive director of PRISM, a nonprofit social service agency in Golden Valley, and Angela Lewis-Dmello, Family Services director at CornerHouse in St. Paul, shared what they have learned from their years of experience recruiting, interviewing, and hiring social workers. Watch the one-hour presentation.